TRALEE – DOME CARPARK, DAN SPRING ROAD (BESIDE THE ROSE HOTEL)
THURSDAY 18th TO WEDNESDAY 24th AUGUST.
"FESTIVAL SPECIAL"
ALL TIERED SEATS ONLY €15 ADULT OR CHILD
ALL RINGSIDE SEATS ONLY €15 ADULT OR CHILD
(SAME LIMIT PER SEATING AREA APPLIES) FOR ONLINE TICKET SALES.
THURSDAY …………… 3.00PM & 6.00PM
FRIDAY …………….. 3.00PM ONLY
SATURDAY …………… 3.00PM & 6.00PM
SUNDAY …………….. 3.00PM & 6.00PM
MONDAY …………….. 3.00PM & 6.00PM
TUESDAY ……………. 3.00PM & 6.00PM
WEDNESDAY ………….. 3.00PM & 6.00PM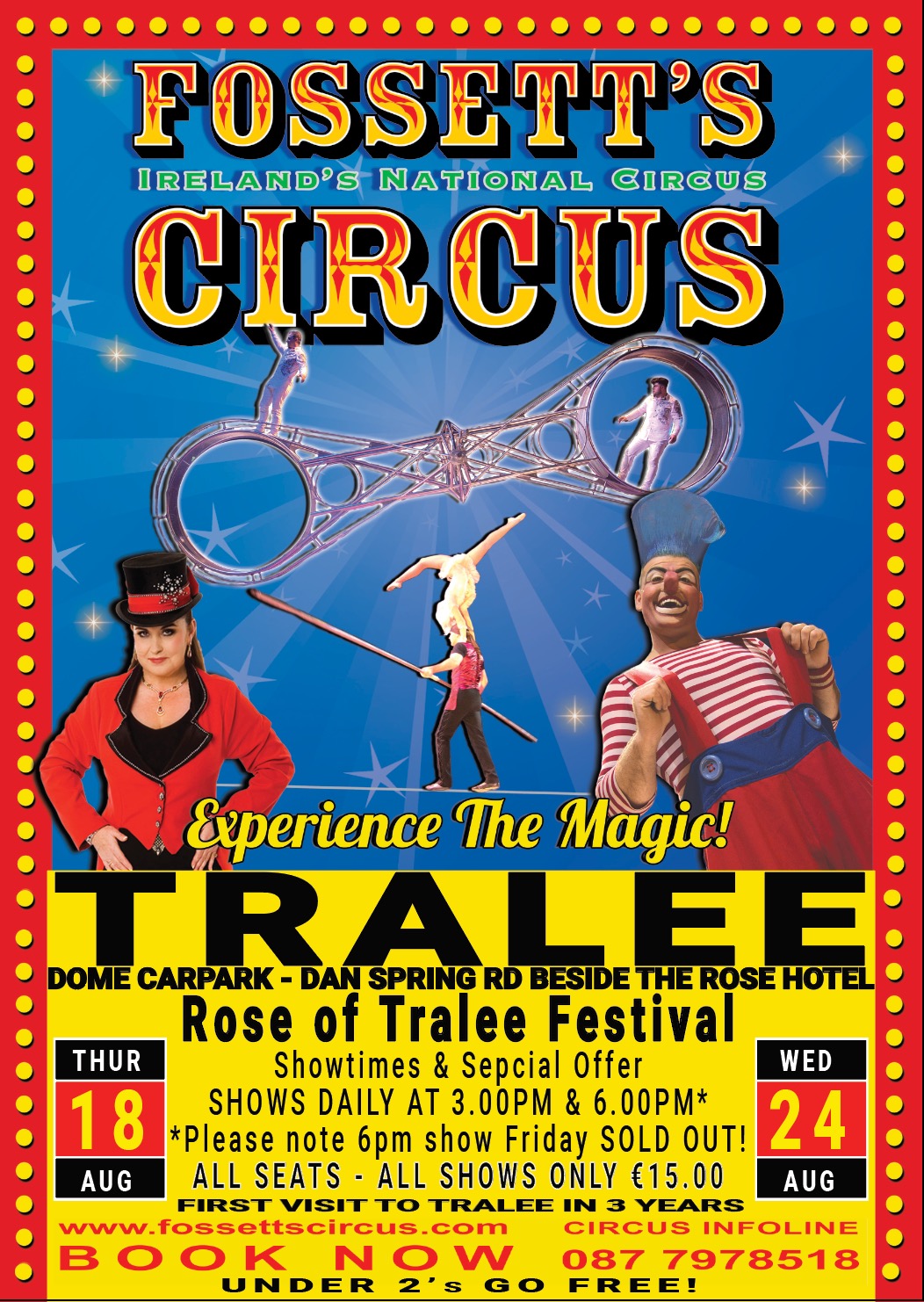 SKIBBEREEN – THE SHOWGROUNDS
Fri 12th to Sun 14th Aug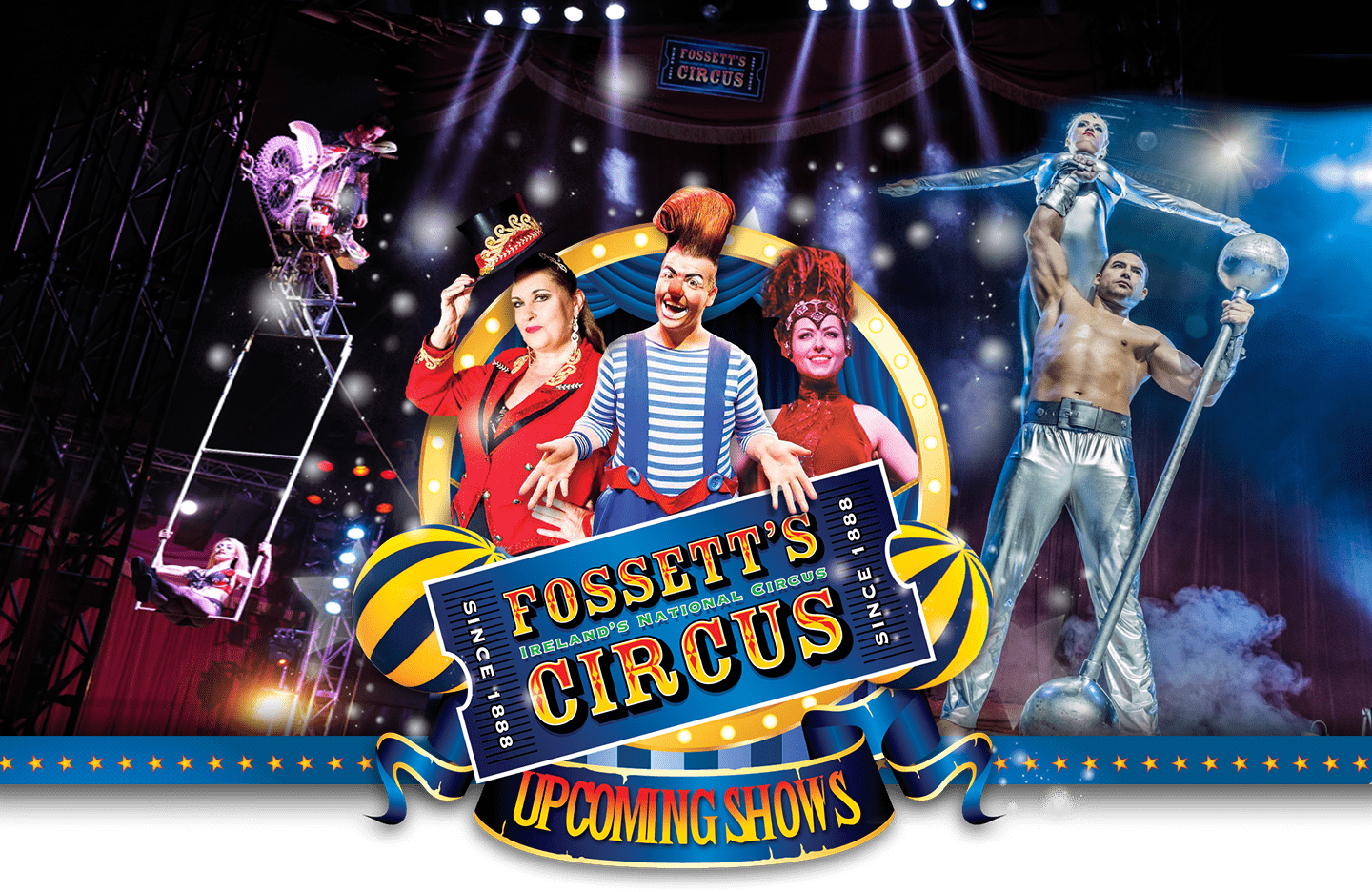 CLONAKILTY – THE SHOWGROUNDS
TUE 9th TO THUR 11th AUG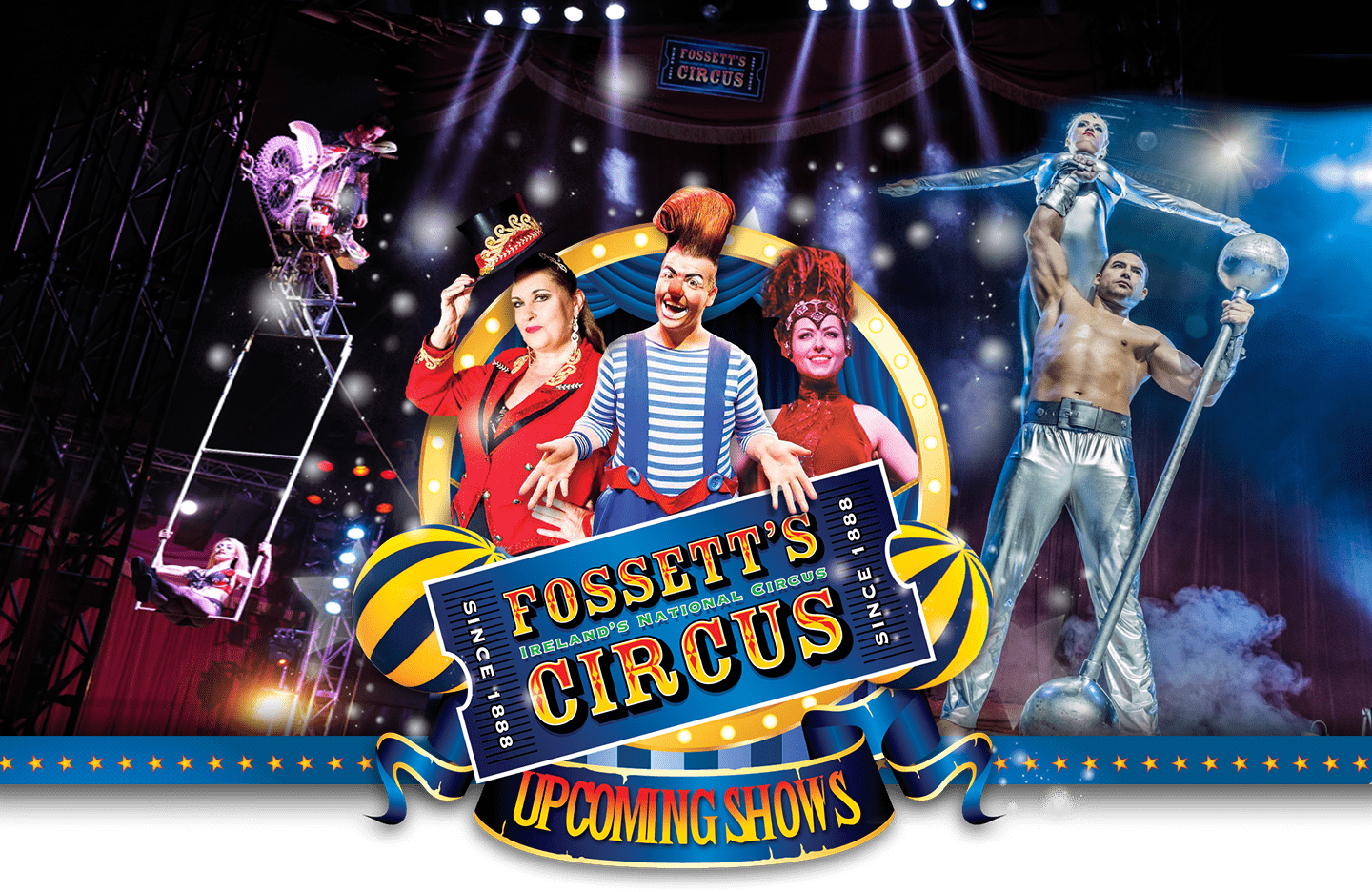 BANDON – GAA GROUNDS, NEW ROAD BANDON
FRIDAY 5th TO SUNDAY 7th AUGUST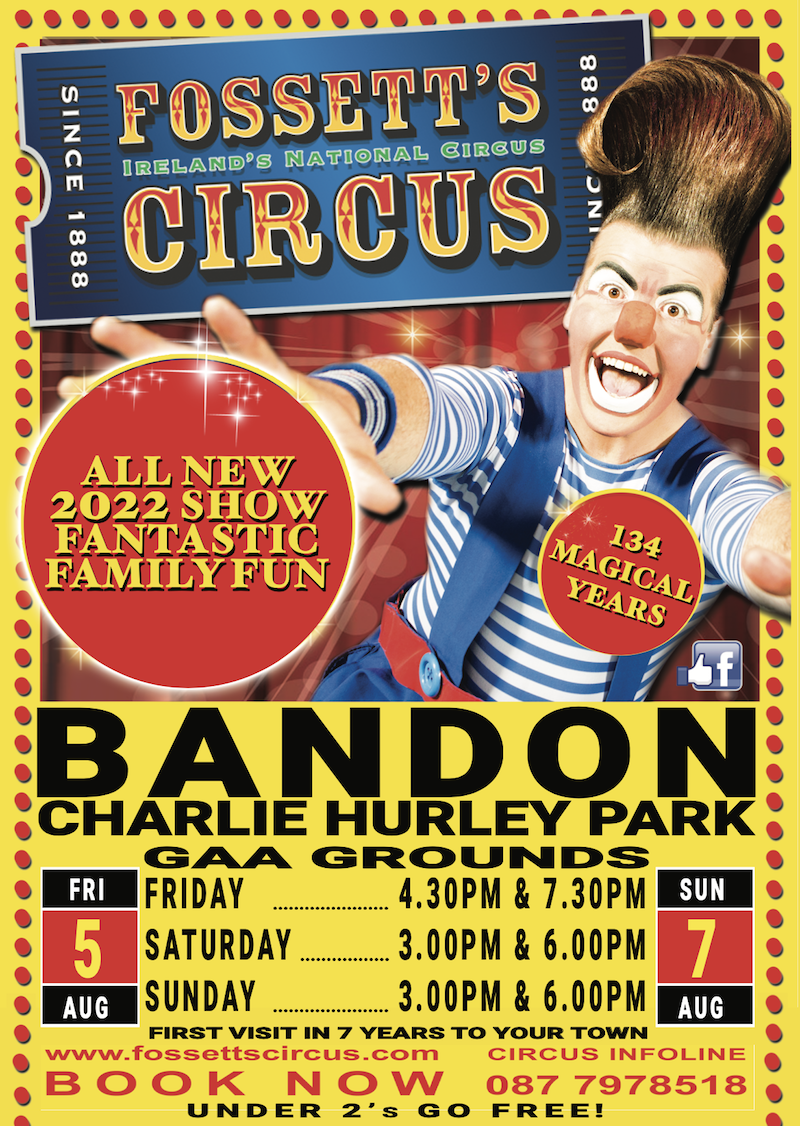 CARRIGALINE – THE COMMUNITY FIELD, CROSSHAVEN ROAD.
"BIG BANK HOLIDAY CIRCUS SPECTACULAR"
SATURDAY 30th JULY TO WEDNESDAY 3rd AUGUST.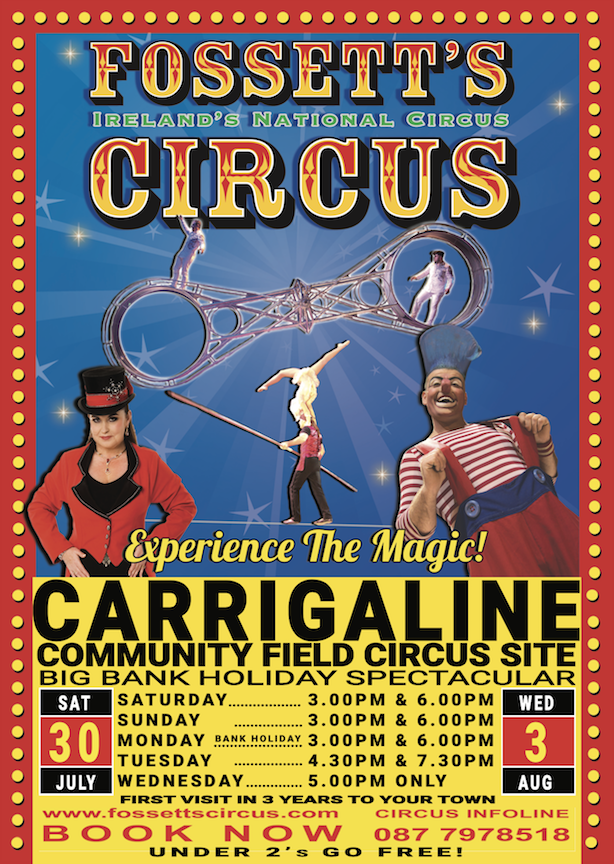 DUNGARVAN – WATERFORD ROAD CIRCUS SITE, BESIDE COOLAGH SERVICE STATION (N25)
WEDNESDAY 27th TO THURSDAY 28th JULY
TRAMORE – THE RACECOURSE CARPARK
FRIDAY 22nd TO TUESDAY 26th JULY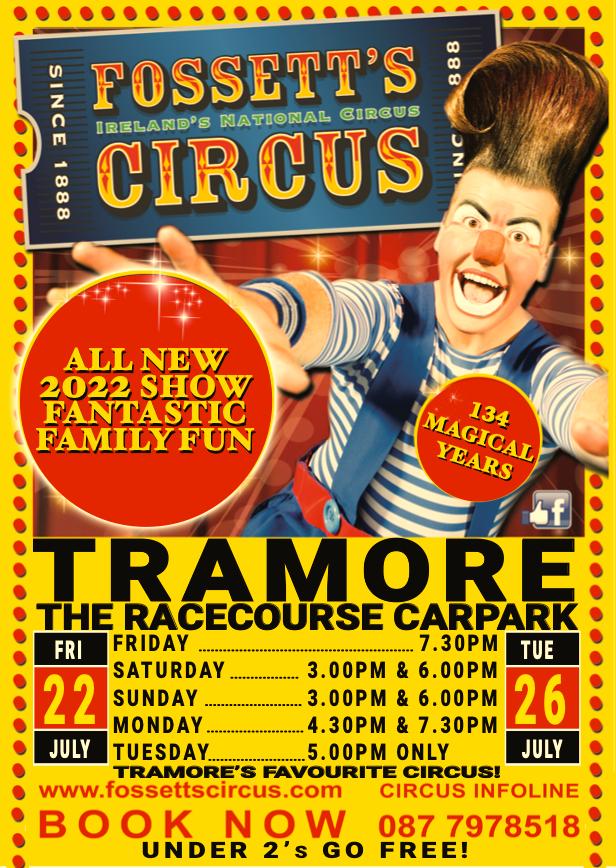 NEWROSS THE RING ROAD CIRCUS SITE BY TESCO
TUESDAY 19th TO THURSDAY 20th JULY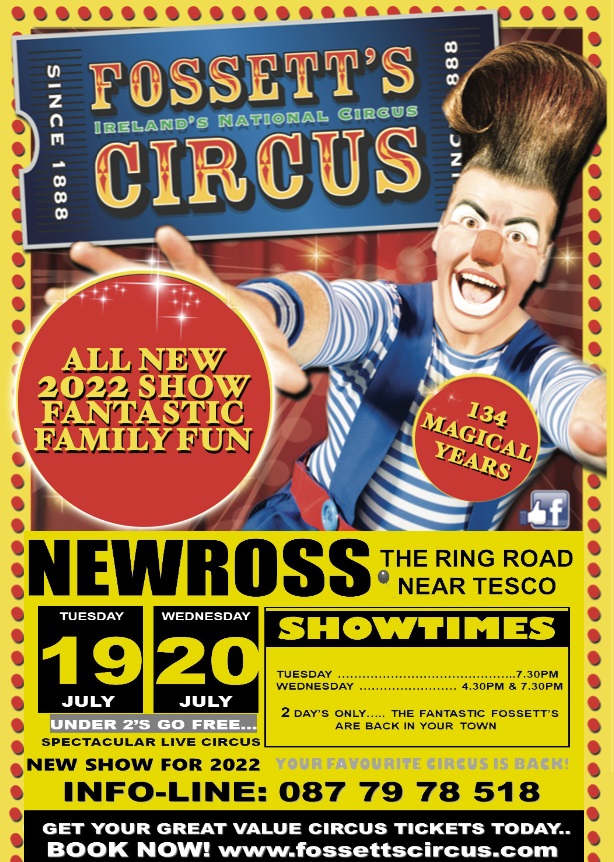 WEXFORD – THE RACECOURSE
NEWTOWN ROAD
Friday 15th to Monday 18th July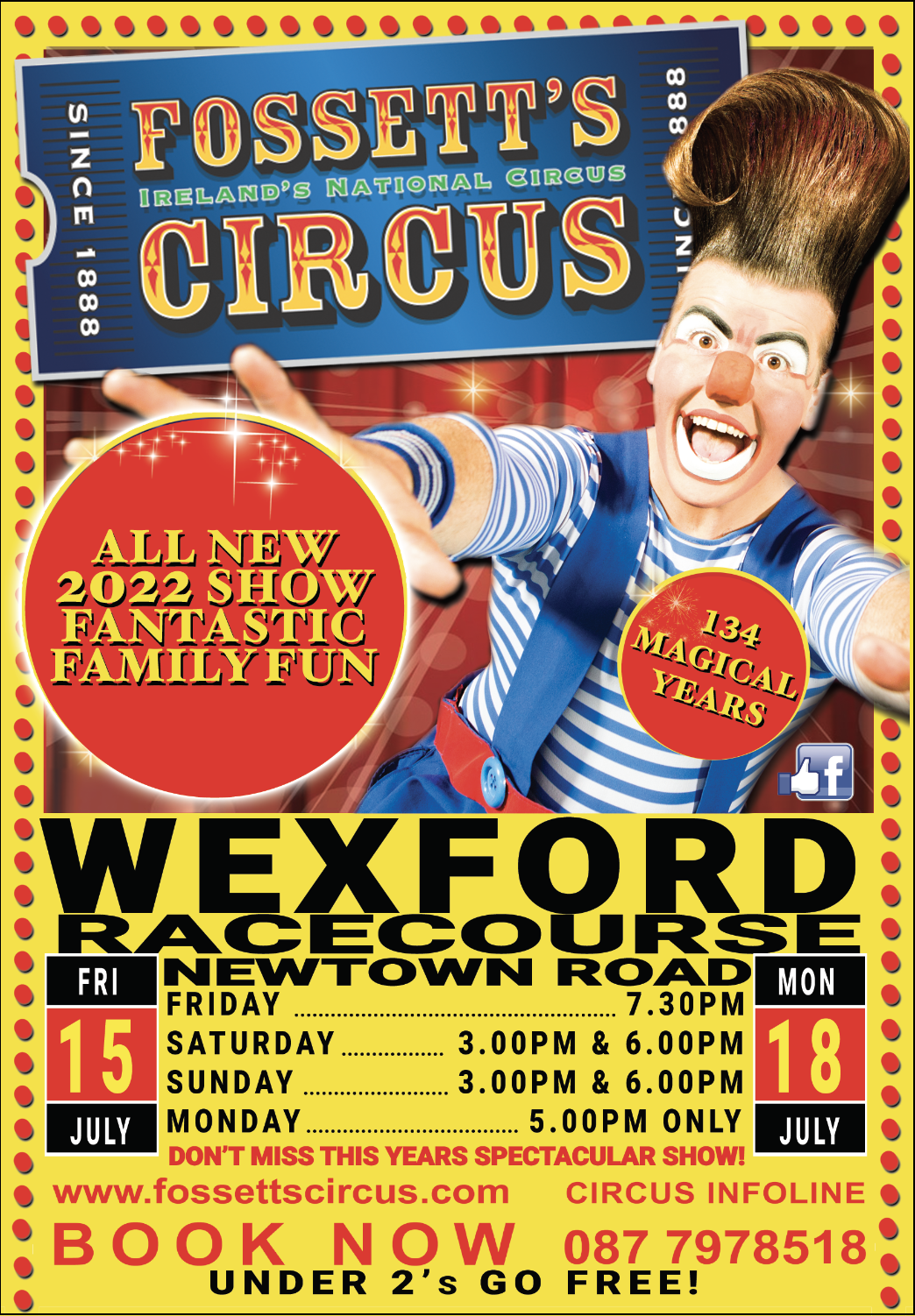 GOREY – Garden City GAA Grounds, Off Fort Road
Tuesday 12th to Thursday 14th July
BALLINGLEN – CIRCUS FIELD NEAR TINAHELY
SATURDAY 9th to SUNDAY 10th July.
WICKLOW TOWN – ASHFORD ROUNDABOUT ( EXIT 16 OFF THE M11)
TUESDAY 5th TO THURSDAY 7th JULY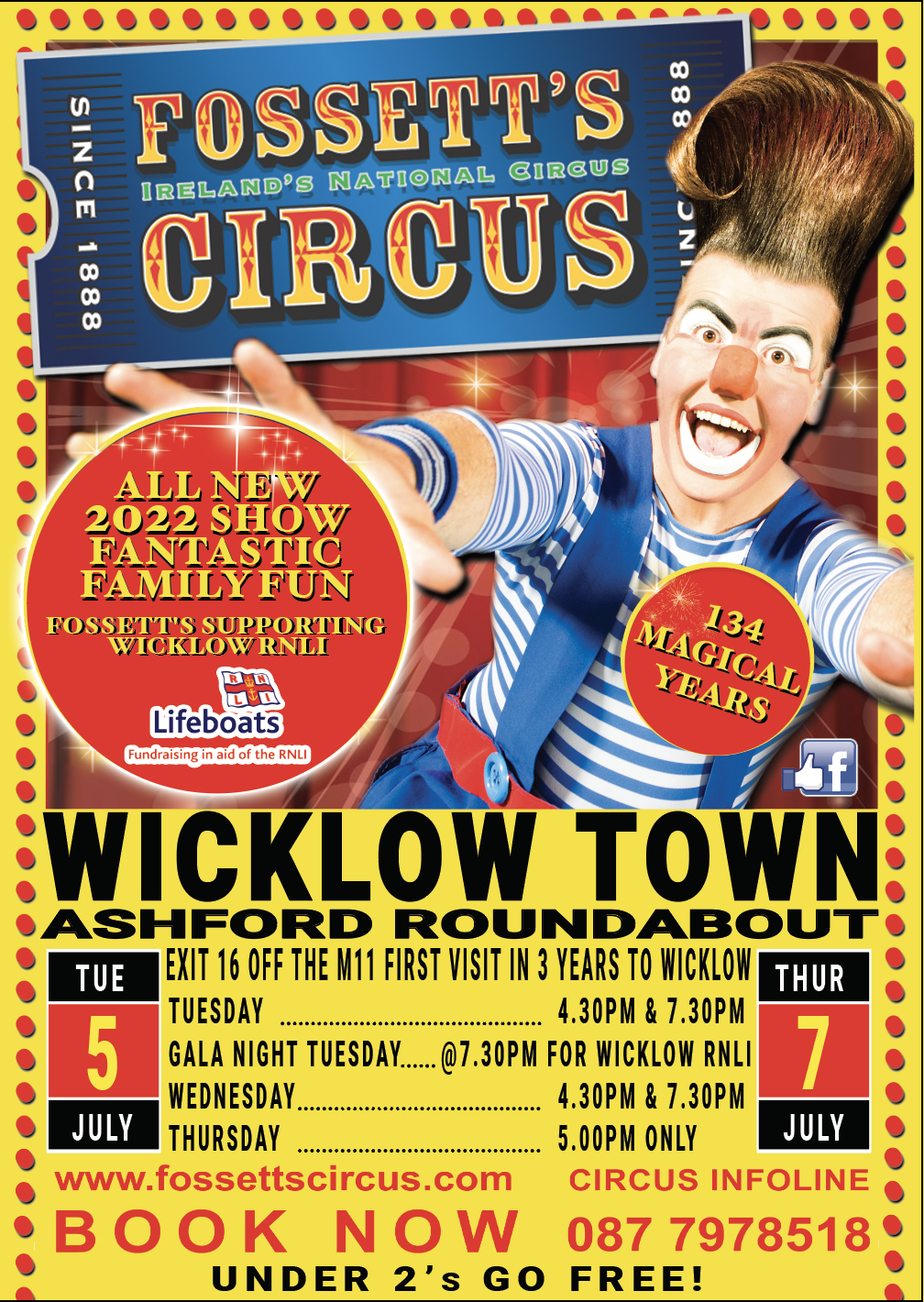 BLESSINGTON – ST.KEVIN'S COMMUNITY CENTRE
TUESDAY 28th TO WEDNESDAY 29th JUNE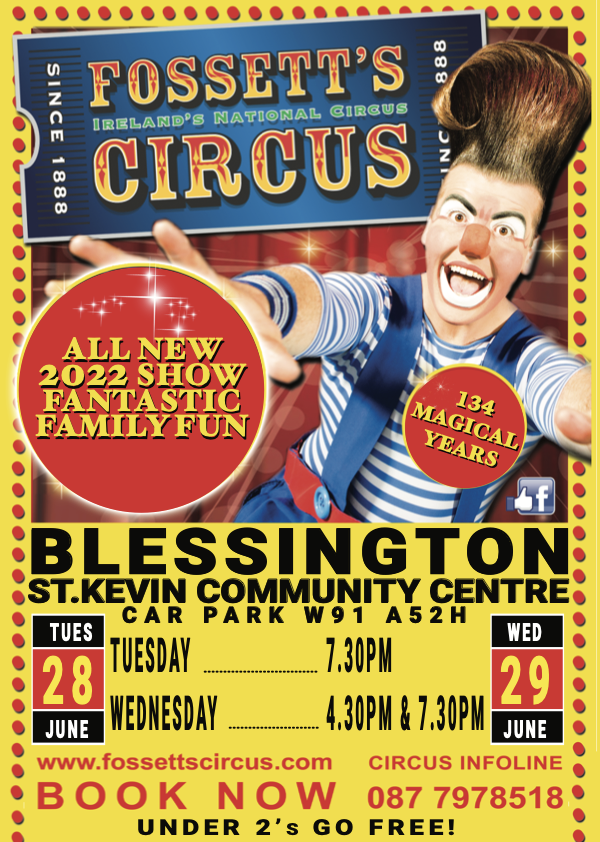 GREYSTONES – EDEN GATE beside Eden Gate Centre off Junction 11 (N11)
WEDNESDAY 22nd TO SUNDAY 26th JUNE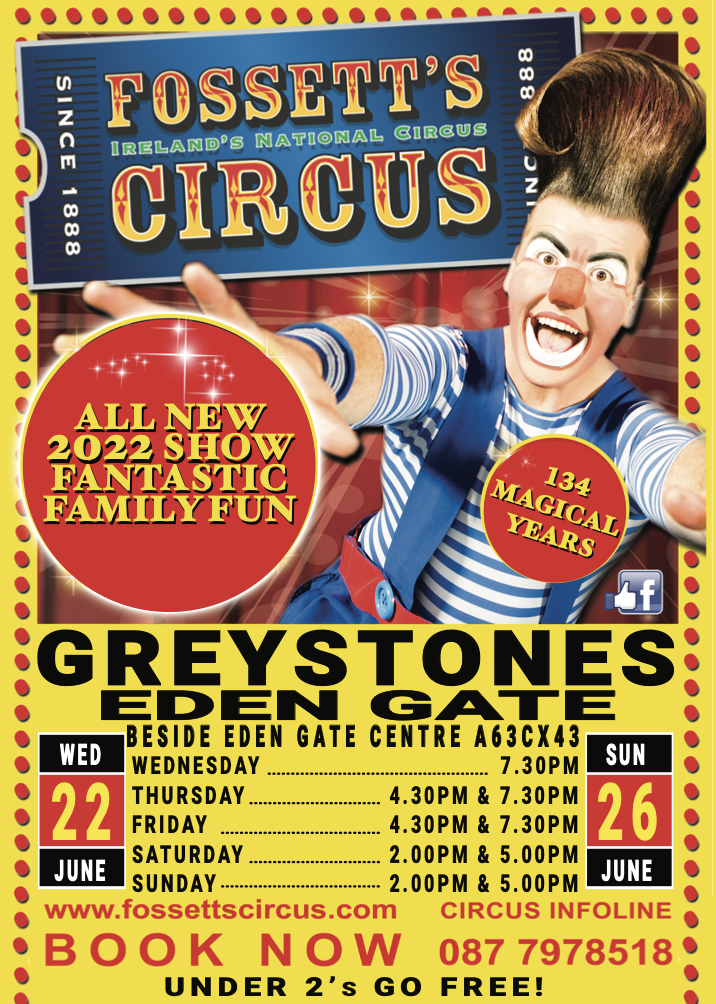 NAAS – THE RACECOURSE TIPPER ROAD NAAS – THE RACECOURSE TIPPER ROAD
FRIDAY 17th TO SUNDAY 19th JUNE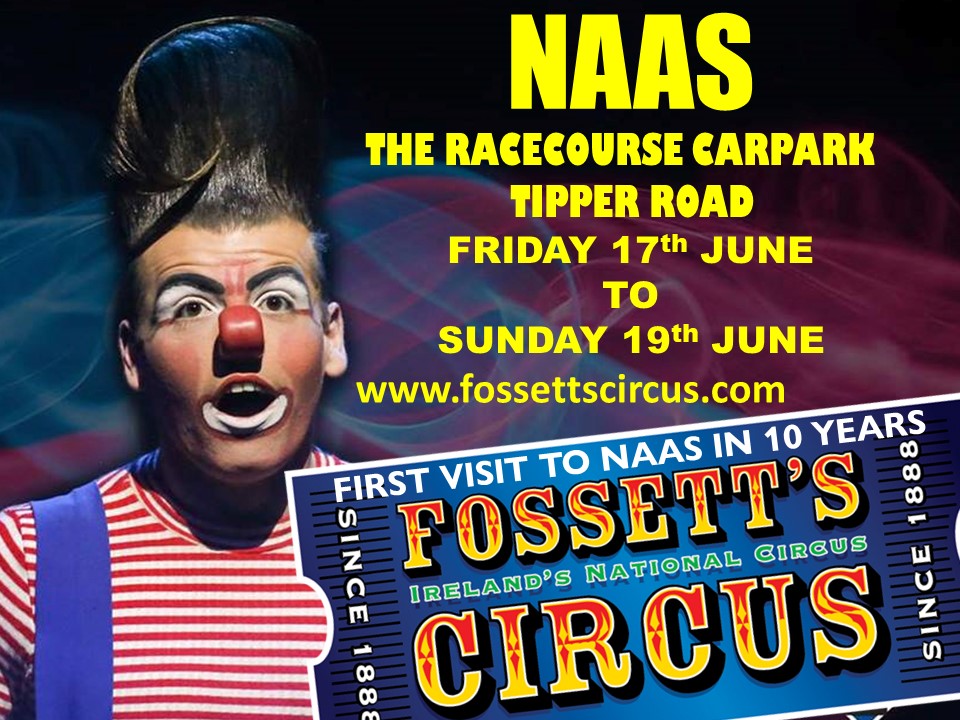 ATHY – THE HUNTING GROUND, DUBLIN ROAD.
TUESDAY 14th TO WEDNESDAY 15th JUNE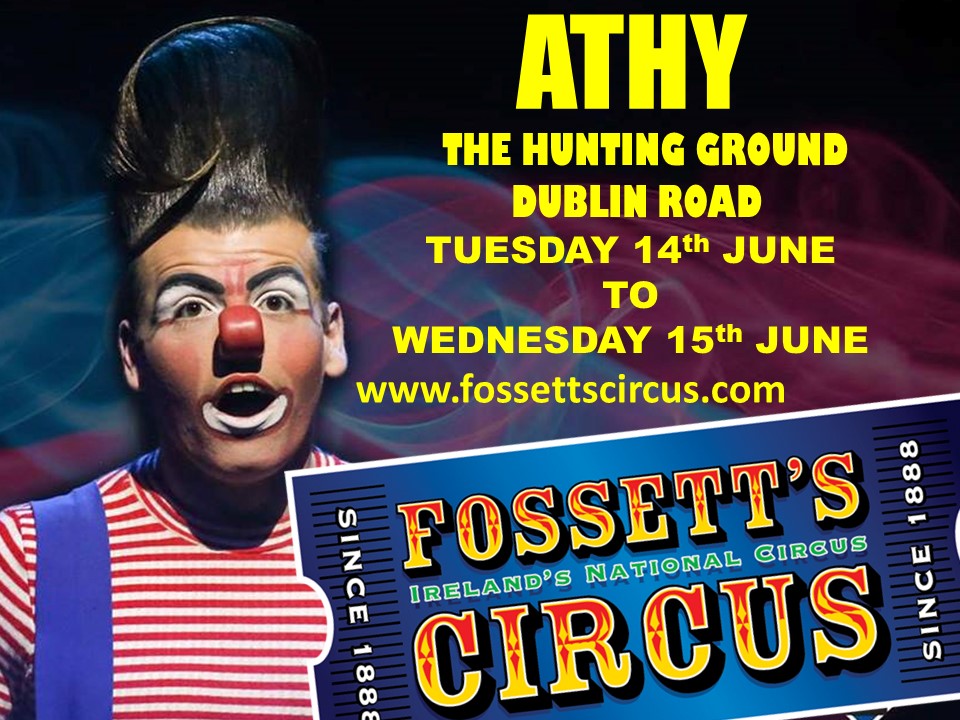 KILKENNY – BESIDE CILLIN HILL EVENTS CENTRE, DUBLIN ROAD.
WEDNESDAY 8th TO SUNDAY 12th JUNE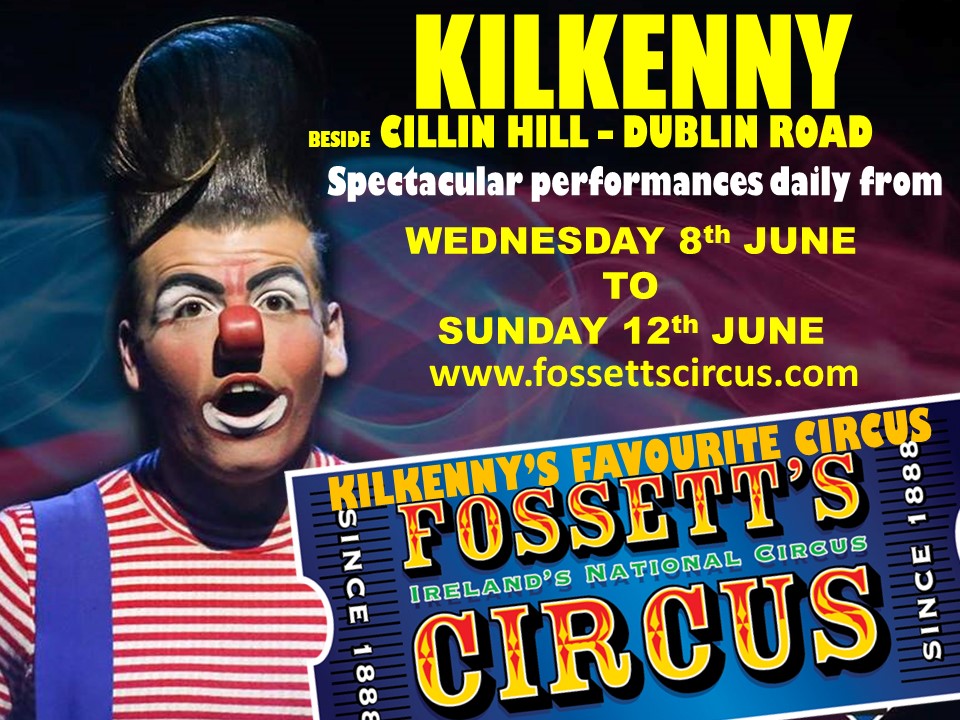 WATERFORD -BALLINAMONA ROUNDABOUT, OUTER RING ROAD.
TUESDAY 31st MAY TO MONDAY 6th JUNE
CLONMEL Racecourse (Powerstown Park)
Wednesday 25th to Sunday 29th May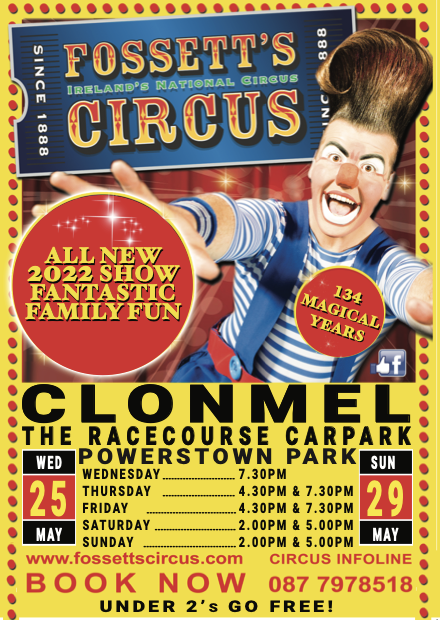 TIPPERARY TOWN TIPPERARY TOWN – ARRAVALE ROVERS G.A.A. GROUNDS
SUNDAY 22nd MAY TO MONDAY 23rd MAY