Experience the Magic of Fossett's Circus
This year Fossett's Circus, the oldest continuously touring circus in the world, is delighted to bring our all new 2017 production to the people of Ireland and receiving 5 Star ratings from customers on our Facebook page.
We feature the very best in international circus performers while presenting the incredible skills and daring of our own family members all in our unique style of circus show.
We are thrilled to include exciting and new circus presentations never before seen in this country. From China the amazing Wang Dang on the aerial straps, Award winning Duo Vinkali from France with a skilful Knife throwing act, "Pat & Pip's Hot Dogs" these beautiful dogs will put a smile on your face,The Death defying "Motorcycle on the Highwire" are just some of the experiences awaiting our audiences. In addition to the these thrilling performers we will also present Illusion, Juggling, Aerial skills, Acrobatics, Diabolo, Wild West presentation,beautiful horses and lots more.
Throughout the 2 hour, fast paced performance our very own Clown Otto will bring his special brand of magic (and mayhem) to the show! A firm favourite with children and adults alike, Otto has promised us that he has a few new tricks up his sleeve this year. Our Ringmaster, Marion Fossett, will keep the whole show flowing as usual.
We are very proud of our 2017 production and we look forward to seeing old friends and making new ones as we tour the country for the 129th consecutive time.
Book NOW on www.fossettscircus.com.
The Duo Vinkali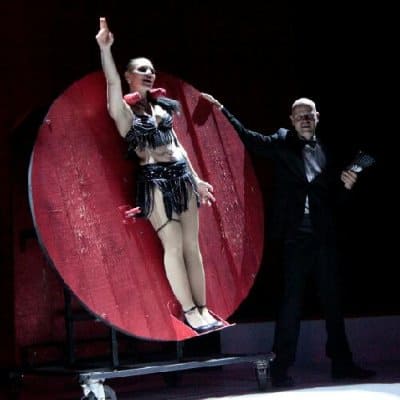 From France, the Duo Vinkali, high speed with death-defying knife throwing including daring Allissonne clamped high-speed revolving target board inches from the knives thudding into the board. Having appeared in circuses and cabarets all over France and many European countries including six months in Latvia, Vincent and Allissone, together with their four year old daughter Lily, are enjoying their first tour of Ireland.
John Fossett & Angel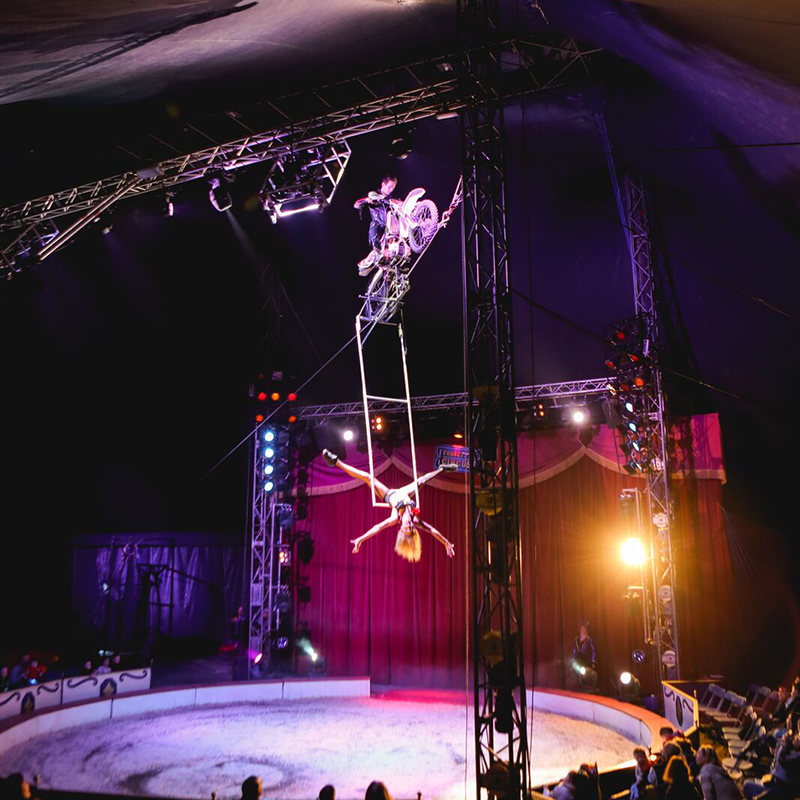 John Fossett & Angel ride into and above the ring on their motorbikes with modern excitement and thrills.  They are the only performers in Europe to ride the specially adapted motorbike on a cable stretched from the side of the tent to the roof!  They are not long back from a year in Australia wowing the public there as they will you here!
Wang Dang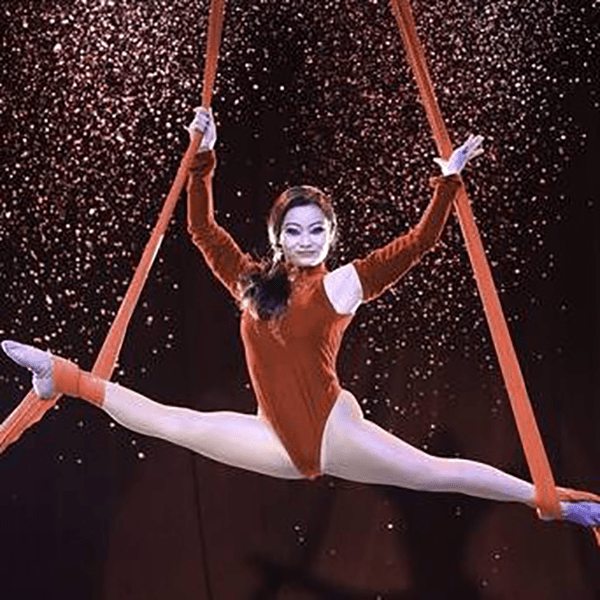 From China comes glamorous Wang Dang showing her contortion skills high in the roof of the big top.
Pat's Hot Dogs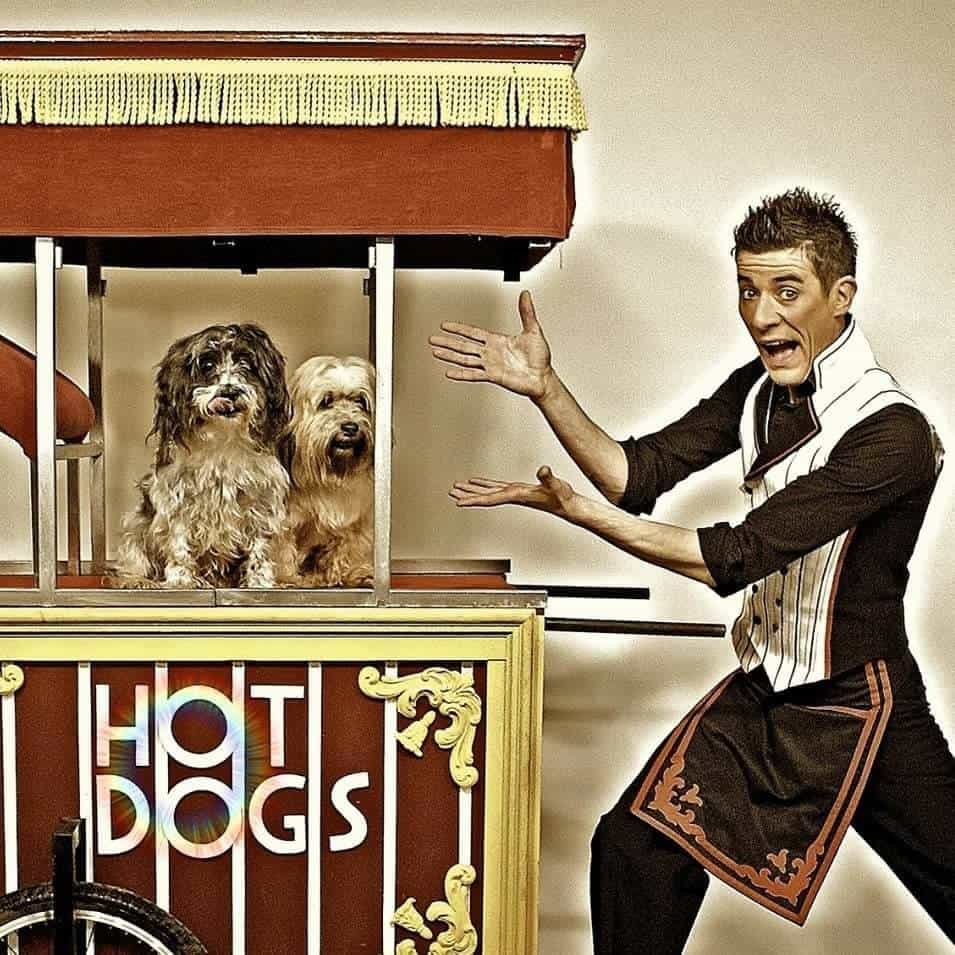 For the first time in Ireland,  Pat's Hot Dogs will be everyone's favourites. This motley collection of mixed dogs, who all come from rescue centres, will put a smile on your faces when they happily perform, or sometimes not perform, their behaviours in and outside the ring.
Suzanne's Arabian Liberty Horses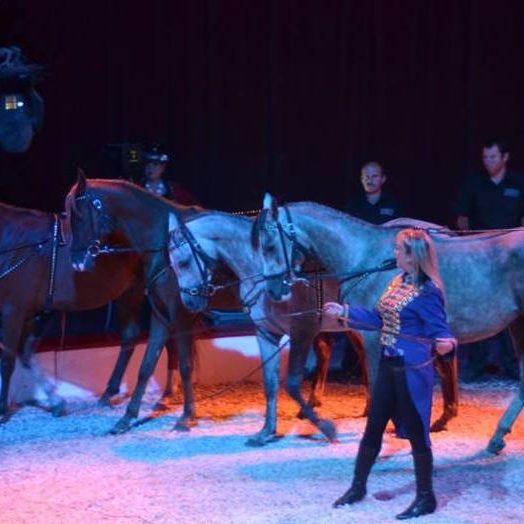 Suzanne's Arabian liberty horses and miniature ponies bring a really traditional feel to the circus.  Horses have been the mainstay of the circus since Philip Astley started the modern circus in London in the 18th century.  Suzanne also shows 'Icon' her Lusitano x Arab stallion working with her two miniature ponies 'Zulu' and 5-year-old 'Whiskie'.
Otto the Clown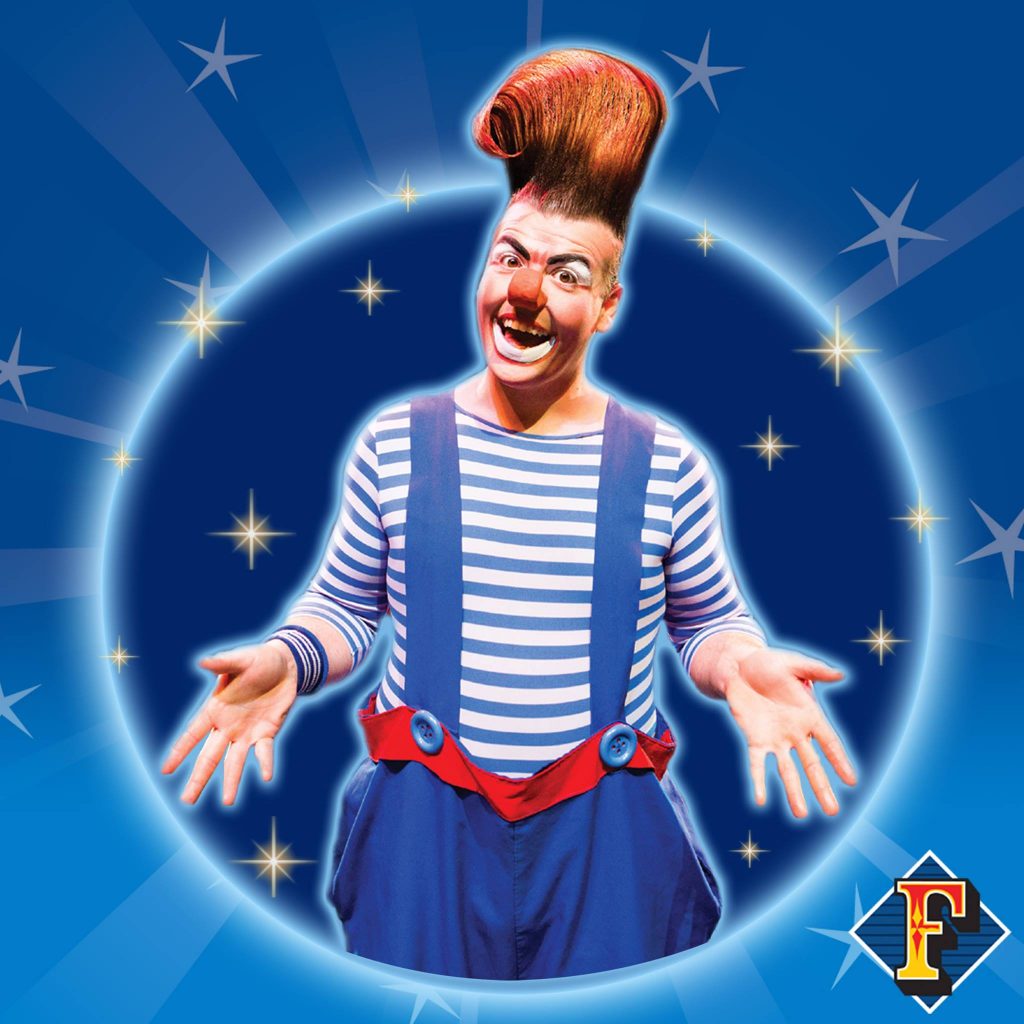 A favourite of children and adults alike, Otto is the clown of the fifth generation of Fossett's, every generation of which has produced a fabulous clown.
Marion Fossett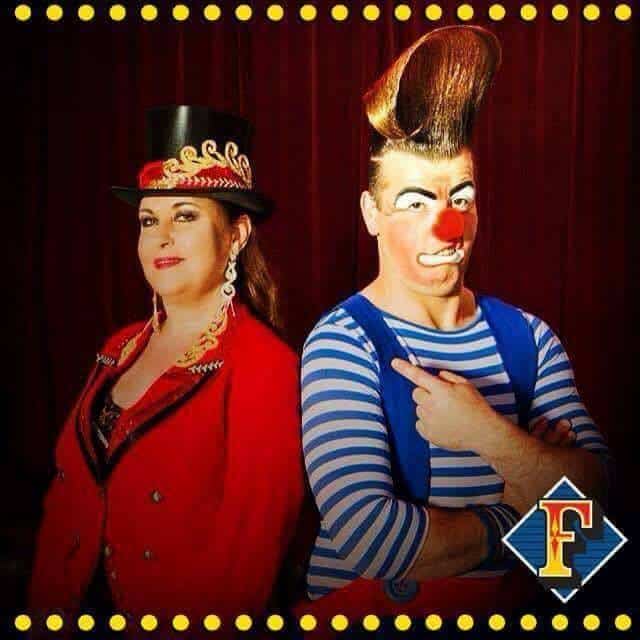 In addition to these amazing performances we also present Jugglers, Diabolo, Magic, Wild West lassoing and whips all held together by our very own Clown Otto bringing his very special brand of fun and magic and mayhem to every performance.
As ever Ringmistress Marion Fossett keeps the Show flowing as usual.