Experience the Magic of Fossett's Circus
This year Fossett's Circus, the oldest continuously touring circus in the world, is delighted to bring our all new 2018 production to the people of Ireland and receiving 5 Star ratings from customers on our Facebook page.
We feature the very best in international circus performers while presenting the incredible skills and daring of our own family members all in our unique style of Circus show.
Experience Our Magical World…
"THRILLING & AMAZING"
130 YEAR ANNIVERSARY SHOW
Join us in our individually seated "Theatre Style" Bigtop, featuring the Best Sound and Lighting system in any European or Irish Circus, adds to the sense of excitement that only a Fossett show can bring.
Come into our magical world to be swept away for a few hours of death defying and thrilling presentations from all over the world, featuring Warren and his canine companions, The Wild West Way " Western past-times with John and Sarah. From the Czech Republic the beautiful Lena Smaha with her whirl wind Hula hoop presentation.
From the State Circus of Romania, Valentin Iancu with his hand balancing skill and daring abilities, Our beautiful contortionist Marina will amaze everyone with a unique presentation, One of the few female Jugglers in the world has joined us this year with a fast paced Juggling routine from the talented Lena.
High in the roof of the Bigtop on the Washington trapeze see Valentin with his "edge of the seat" trapeze act, first time ever seen in Ireland.
"Back by Public Demand" our daredevils, John & Sarah Fossett perform high in the roof of the bigtop with the Motorcycle on the Highwire plus lots more to entertain you in our energetic performance…… a show not to be missed!
Throughout the 2 hour, fast paced performance our very own Clown Otto will bring his special brand of magic (and mayhem) to the show! A firm favourite with children and adults alike, Otto has promised us that he has a few new tricks up his sleeve this year. Our Ringmaster, Marion Fossett, will keep the whole show flowing as usual.
We are very proud of our 2018 production and we look forward to seeing old friends and making new ones as we tour the country for the 130th consecutive time.
Valentin Iancu "International Master of Balance"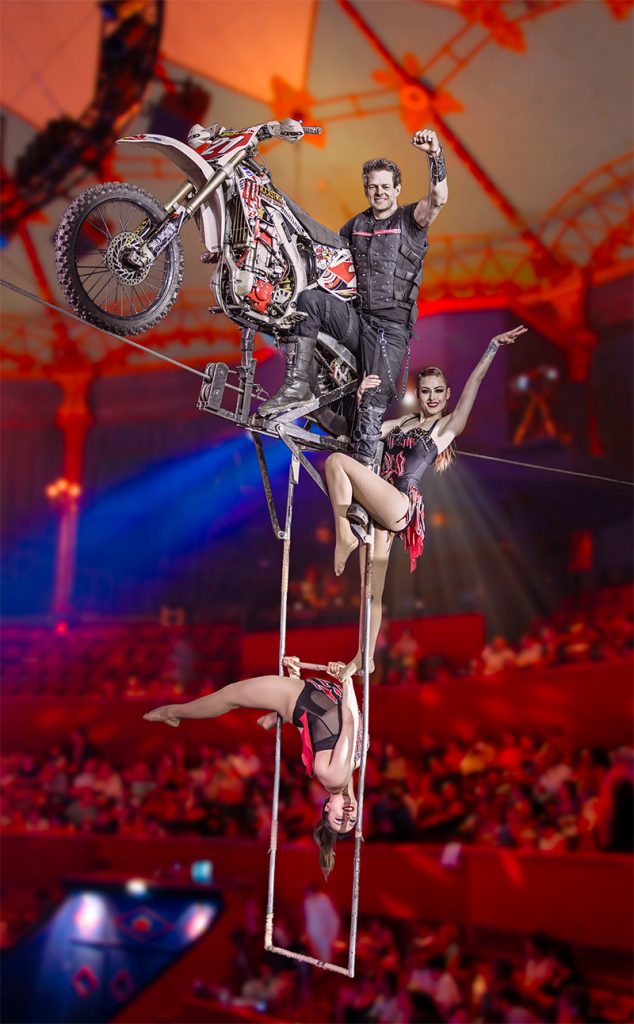 "Back by popular demand" John Fossett on the high wire, speeding his motorcycle to the top of our circus bigtop with Sarah Fossett ! Our Circus Daredevils
"Marina" – Grace and beauty with an unbelievable contortion presentation.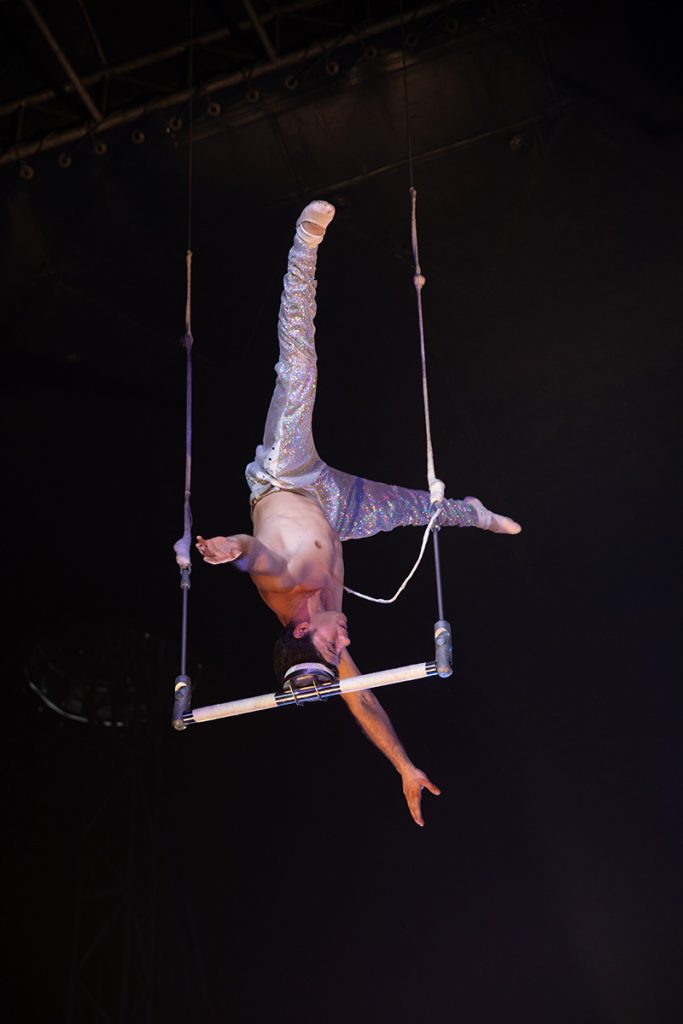 "High in the roof of the Bigtop" on the Washington trapeze see Valentin with his "edge of the seat" trapeze act, first time ever seen in Ireland.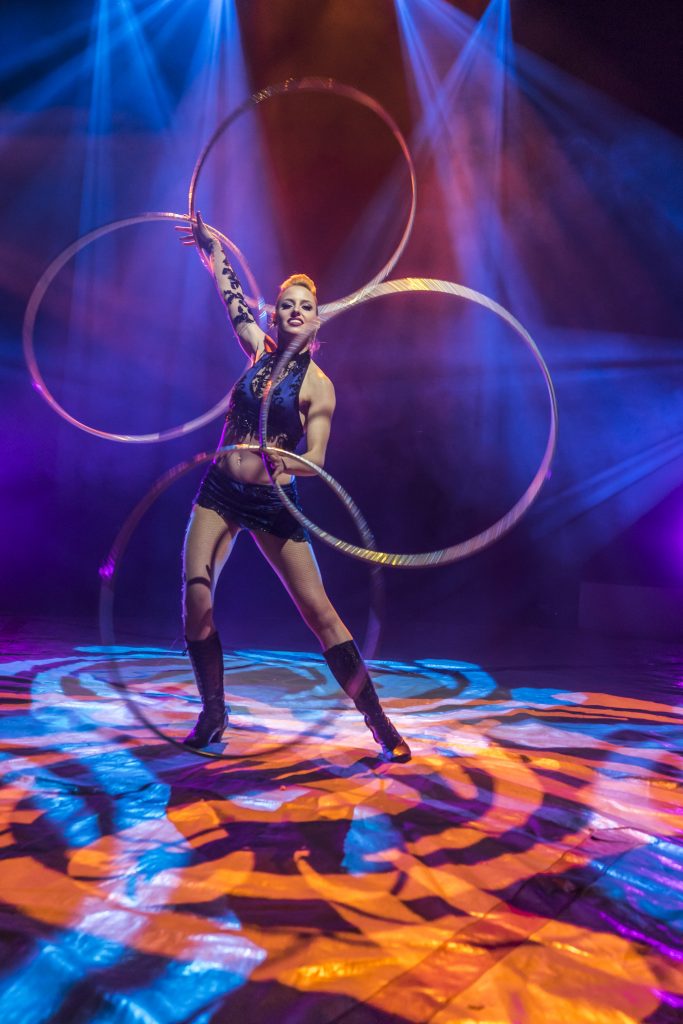 Lena Smaha our very Beautiful and talented artist from the Czech republic with her lively Hula hoop presentation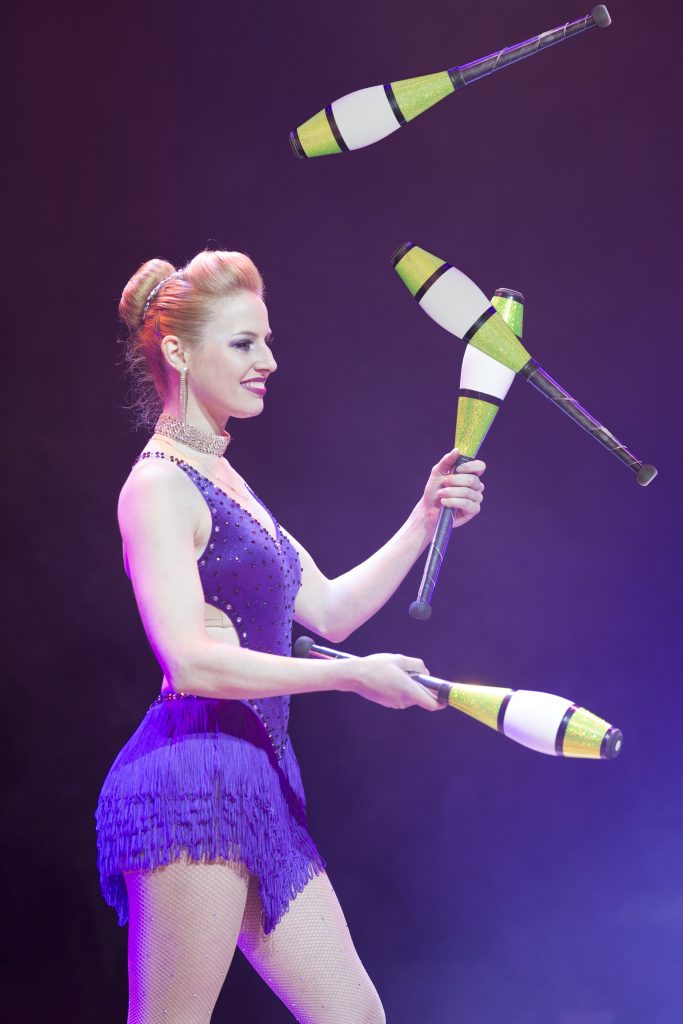 Lena is one of the very few Female jugglers in the world, Joins our show this season to present her fast paced Whirl Wind Juggling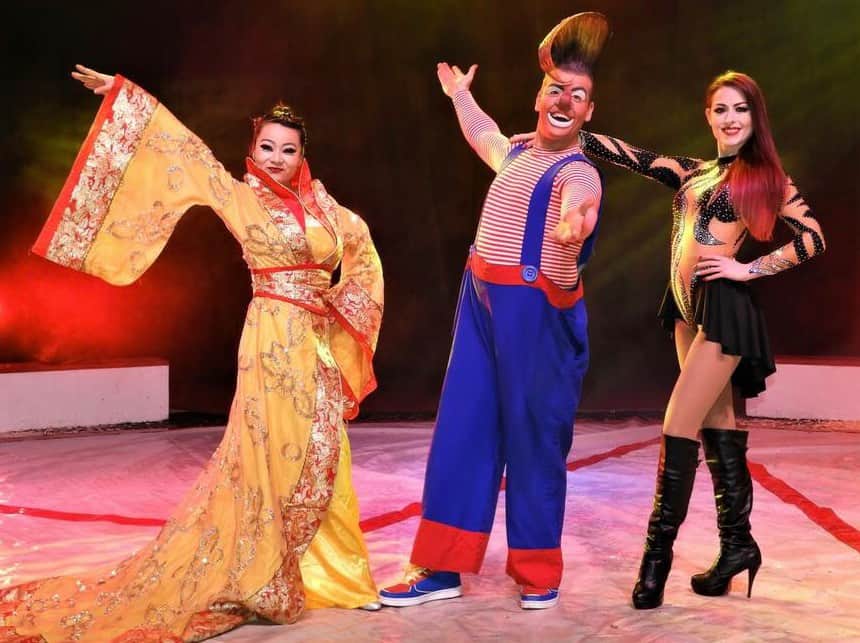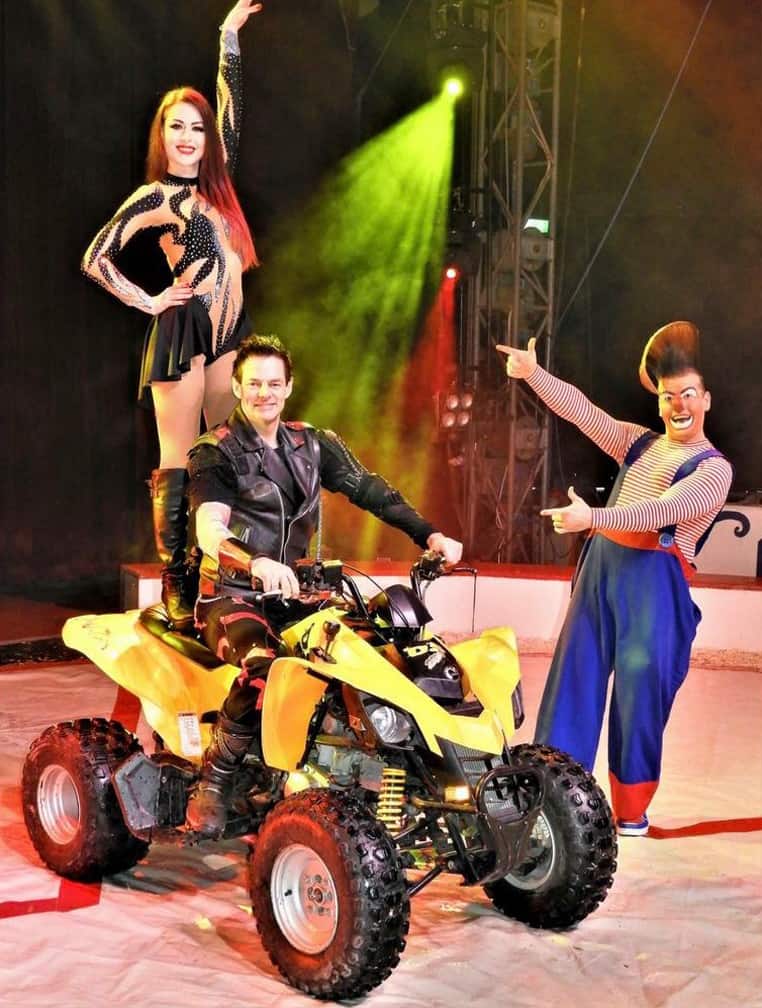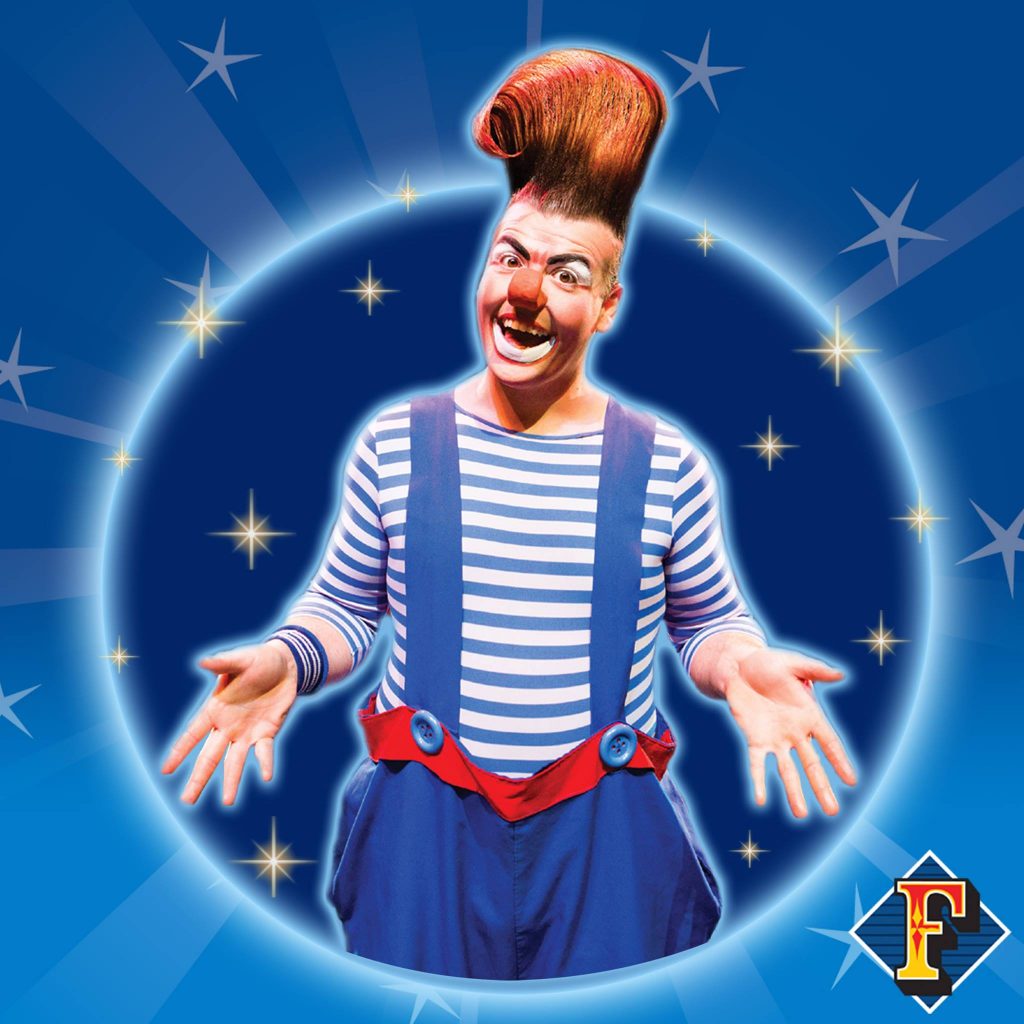 A favourite of children and adults alike, Otto is the clown of the fifth generation of Fossett's, every generation of which has produced a fabulous clown.
The Nations Favourite Otto The Clown presents fun filled "side splitting"
gags to have you in tears of laughter!
Marion Fossett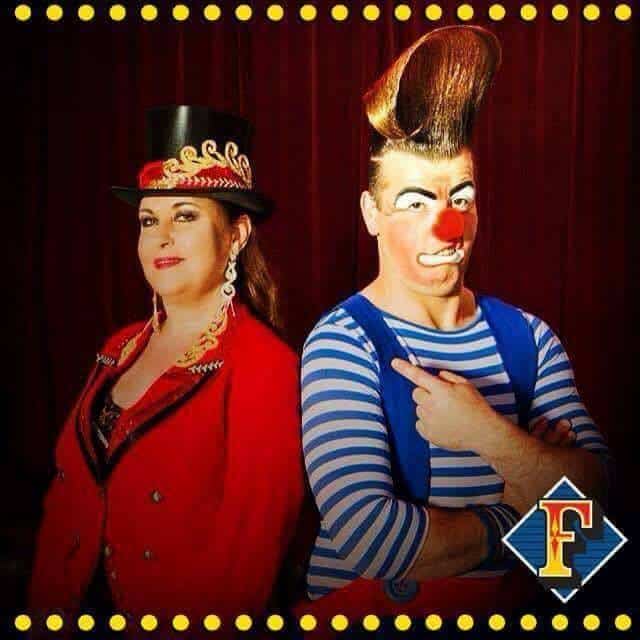 In addition to these amazing performances we also present Jugglers, Diabolo, Magic, Wild West lassoing and whips all held together by our very own Clown Otto bringing his very special brand of fun and magic and mayhem to every performance.
As ever Ringmistress Marion Fossett keeps the Show flowing as usual.