When:
From
October 10
to
October 15 2017
FOSSETTS CIRCUS IN LETTERKENNY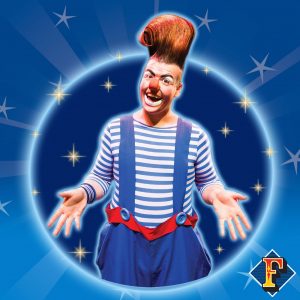 Fossetts Circus are coming to Neil T.Blaney Road for a number of fun filled, spectacular shows for all ages.
Enjoy the wonder of Ireland's National Circus and their amazing acts.
We are hosting a huge line up this year with some of the greatest performers that the world can offer.
See the girls on the sashes performing Aerial Gymnastics, Amazing stunts with a Motorbike on a highwire, Incredible feats of knife throwing and juggling, all tied together with the amazing skills and humour of Otto The Clown and of course, presented in true circus form by Marrion the Ring Master.
The show promises a delight for every age and a performance to have everyone on the edge of their seats.
On top of this you will also experience:
Face Painting
Pony Rides
Meet The Clowns and Performers
Photo Oppertunities with Otto!
and Prizes to be won in the raffle
All in all, it's a great way to spend the day in the company of Ireland oldest and Only National Circus.
SHOW TIMES
Tuesday 7.30pm
Wednesday 7.30pm
Thursday 4.30pm & 7.30pm
Friday 4.30pm & 7.30pm
Saturday 2.00pm & 5.00pm
Sunday 2.00pm & 5.00pm
LOCATION